DAUGHTER OF THE WAVES:
MEMORIES OF GROWING UP IN PRE-WAR PALESTINE
by RUTH JORDAN

WINNER OF THE PRESENT TENSE PRIZE
FOR BIOGRAPHY/AUTOBIOGRAPHY
USA, 1983
Described in the British press as ''one of the best of our modern biographers'', Ruth Jordan was the author of six books. A talented journalist, she became the first woman news presenter at the BBC Hebrew Section. Her autobiography Daughter of the Waves (1983), a poignant yet heart-warming memoir of growing up in British Mandate Palestine, won the coveted Present Tense Award in the USA. This remarkable woman was also our mum!
Ruth was born in 1921 in Bat Galim (Daughter of the Waves), a seaside suburb of Haifa. For Ruth and her peers, Eretz Israel was home and the only country they had ever known. These childhood years were an adventure and an education, reflecting the journey of a country in the making. Ruth seamlessly interlaces personal vignettes with epoch-making events, such as the refugee boats arriving from Europe, and her anguish as she saw them being turned away.
The book's wide sweep embraces stories of Ruth's pet hyena, her biologist father's mutually respectful relationship with his Arab neighbours, and the bombing of the Palace Hotel in Jerusalem. It doesn't defend, apologise or accuse. Instead, it depicts with clarity, humour and empathy, a child and a country growing up together.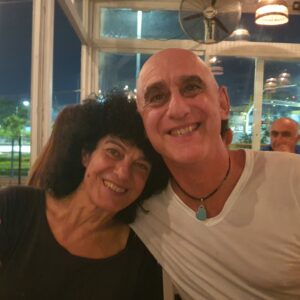 Ruth dedicated this extraordinary book to us, her children. Forty years after the first edition, we are thrilled to republish Daughter of the Waves. To share Ruth's journey, to receive excerpts of the book and to follow the relaunch in late 2023, sign up on the button below.

REMEMBERING RUTH - AN INTERVIEW WITH NORMAN LEBRECHT
To know more about Ruth, watch this short clip as we interview journalist Normal Lebrecht, Ruth's former colleague and friend, and discuss the impact of her book.